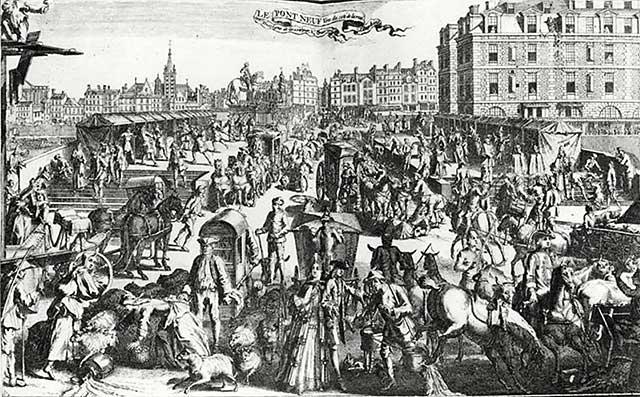 So daydreaming has been a great hobby of mine ever since I moved. I day dream of all the places I wish I could be in, or at least own some property in! If I am not staring out the front window of my canal-side apartment (see right>>) in Amsterdam while Heather is making martini's and explaining what
Georgiana's
favorite drink was, I might be walking down a cobble road in Bath. (see And if I were in any of these places I would probably take the time to relax and people watch (because that is oh-so entertaining!) I have decided that Paris circa 1780 would be an ideal situation for an avid people-watcher/daydreamer. I found a lovely description of a typical day that might pass by in eighteenth-century Paris by Oliver Bernier:
"At seven in the morning the gardeners drove their carts away.
At nine you saw the barbers, hairdressers, coachmen and cafe waiters running about.
At twelve lawyers and notaries appeared on their way to the Palace of Justice.
At two carriages rumbled through the streets, taking people to dinner.
At five-thirty there was a deafening noise as everyone rushed to the theatre.
At nightfall the working men made their way back to the faubourgs where they lived.
At nine people were coming out of the theatres and driving here and there. The prostitutes came out.
After midnight there was the noise of carriages going home.
At one you heard the farmers bring their produce to market.
At two the turgotines, those new, narrow, fast stagecoaches named after the Turgot, the Controller General of Finances, rushed through the streets on their way out of the city.
At six the bakers came in from Gonesse, bringing in their bread, and as the day started again the street vendors came out, joined now by a new comer, the lottery salesman, whose tickets were avidly sought for."